Read Time:
11
minutes
Exotic Foods!!! The name is enough to make us drool.
The Enticing, Bohemian and Foreign-looking dishes from around the world are made with the sole intention to make us want them more and more.
Every country has their own delicacies and only a travelling soul is the one who can try all the exotic dishes from all over the world because the local restaurants tweak the taste of the dish according to the local liking. Travelling makes these dishes more alluring. We should at least try these most exotic foods in the world once in our lifetime. Yum Yum!!!
Now, after drooling a little bit let's talk about Exotic Dishes from around the world which will tickle your taste buds.
Keep on reading…
But first, for those who don't know.
What Exotic Food Means?
As enticing the name is, the meaning is also extraordinary. Exotic foods mean foods that are non-native to your country or super rare.
Exotic foods are not used in day to day dishes. Spices are a great example of Exotic foods because they add a certain fragrance and flavour to the food. You may not believe it but Rosewater and flowers are also exotic.
Mainly, there are two types of Exotic dishes. The first one is,
Super rare fruits
Vegetables
Spices
Leaves
The Second type of Exotic foods are exotic meats like Insects and reptiles:
Snakes
Tarantulas
Centipedes
Frogs
Super Rare eggs
We will talk about the second type of weird and bizarre foods in the upcoming post.
Meanwhile. Enjoy the information on the first type (Non-Creepy) of Exotic foods.
Asia is the centre of exotic foods because there are spices and leaves which you rarely see but as our food tastes are expanding the meaning of exotic foods is changing. They are becoming more common day by day.
Exotic dishes from around the world are different from comfort food that we eat every day are inexpensive and we are familiar with them. Exotic Dishes from around the world are not only tasty but can also burn a hole in your pocket.
So, In my opinion, if you want to have exotic foods and beverages every day then you should have money enough to keep an elephant as a pet. In simple words, a lot of money.
Thanks to people all around the world and globalization, the world is getting smaller and the food is available more than before and foods that were out of reach before can be had.
Why eat Exotic Foods?
A new research paper published by Latimer and his colleagues found out that people with food adventurousness are associated with Body Mass Index and other health behaviours.
They found out that, people who tend to eat a greater range of foods especially more exotic ones exhibit healthy behaviours like lower BMI i.e, they are leaner and healthier.
The sample group was composed only of young women – research has not been conducted on middle-aged men. Let's hope it is conducted soon.
The bottom line is if you want to be healthier, leaner, meaner and faster you should include these in your Exotic dinner ideas.
You have to be superconscious that these attractive exotic foods don't come cheap.
Let's continue on our list.
Exotic Dishes from around the world
Most exotic foods in the world can be found in most of the countries which are tropical and called exotic locations. One of the blessings of travelling to exotic locations is that you get to taste Exotic Dishes from around the world.
Sometimes exotic foods don't mean that you have to go to 5-Star hotels or restaurants to eat them. In a few countries, these colourful and bohemian dishes can be had on the streets.
Here we don't mean you have to try to eat a brain of a monkey or eat a living baby octopus. Here we will talk about eating some of the most exotic food in the world available in different countries.
We will make the list according to countries.
Indian – Best Exotic food in the world
Some people may be cautious of Indian food because it is thought of as too spicy. The real Indian food is not that spicy as rumoured, it is more aromatic than spicy. The spices and the condiments available in India are some of the rarest. The brilliant combination of spices and leaves like cumin, coriander, cinnamon etc., will bring out an aroma you've never experienced before and your taste buds will thank you later. Once you get a hang of it then these exotic foods to cook at home will be in your exotic foods cookbook.
Butter Chicken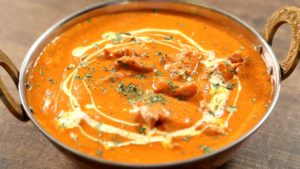 If you ever get a chance to travel India then I recommend you eat this delicacy. This dish is excellent if you are new to Indian food. It is not at all spicy and the rich creamy texture will make you want it more.
The chicken used in this dish is tender and boneless making it easy to eat. The butter gives it a creamy texture and taste. It is best if had with Paratha.
It's not just Chicken in it, if you want to tweak it a little bit then you can add a few vegetable and paneer (Cheese) into it. This addition makes it some of the exotic foods that are healthy.
---
Beetroot and Paneer Curry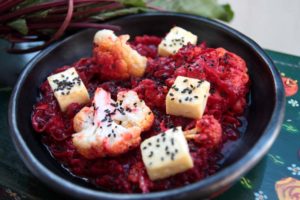 This is one of my favourite Exotic dinner ideas. It is nutritious and mouthwatering at the same time. From this dish, you will come to know that Indian exotic foods to cook at home are rather easy than others.
Paneer is Indian Cheese, if you don't want to add paneer then you can replace it with tofu and make it vegan-friendly. Exotic food all around the world is expensive but not in India, they can be made with ingredients available in the supermarket. To make it more healthy you can make vegan naan bread or gluten-free naan bread.
This dish looks colourful and healthy. Have a bite of the gluten-free naan bread with this dish and enjoy these exotic foods to try before you die.
Chinese – Best Exotic food in the world 
Chinese food is very popular and one of the finest exotic foods all over the world. You can find exotic Chinese foods in places you have never thought before. These foods are not available as a normal Chinese takeout. These Chinese Gourmet foods are so delicious that you will be including them in your easy exotic cookbook and in your exotic dinner ideas.
Let's get it started.
Sweet and Sour Tofu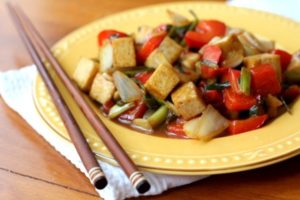 This dish is one of my favourites because this dish can be modified. This dish can be cooked as a vegan dish and also as a non-vegetarian dish.
You can cook this Sweet and Sour Tofu with tofu to make it vegan or you can add chunks of chicken and meat. Tofu can be tasteless but actually, it is a great ingredient and a good replacement for meat.
Firm tofu holds its texture and it is easy to season and make it taste delicious. The best way to have it is to serve it over a bowl of rice making it one of the best exotic food in the world.
---
Dim Sum Buns
Dim Sum Buns are very simple and elegant. This is one of the most exotic vegetarian food in China. The doughy steamed balls are filled with delicious filling. Amazing isn't it? The traditional dim sim is filled with prawns or some form of meat.
However, you will fall head over heels in love with Dim Sum Buns. Exotic foods all over the world need 100 ingredients to prepare a single dish but not Dim Sum Buns. It can be made with 3 to 4 ingredients. I am personally in love with the simplicity of this delicacy. Yum Yum!!!
Thai – Best exotic food in the world
Just like Thai movies, exotic Thai food is gaining popularity. If you are not familiar with Thai food, let me give you a glimpse. Think of fresh, lemony, sweet, hot and salty flavours with a hint of coconut, lemongrass and coriander. How can a food has all this and not be has a distinct taste? Just because of the distinct taste and the fusion of flavour and colour, Thai food has become one of the best exotic dishes from around the world.
Let's talk about the foods now.

Thai Green Papaya Salad
The Thai name of this dish is Som Tam. This gourmet food is hot, crunchy and refreshing at the same time. If you ask why eat exotic foods? then this dish is your answer. The main ingredient in this dish is papaya but not a ripe and sweet papaya.
If you wish to prepare this dish then you need a green papaya which is unripe and without any spots. Out of all the exotic foods all over the world, this one is unique because, in spite of unripe fruit, it is tasty and crunchy and one of the perfect salads and stew recipes.
---

Thai Green Curry
Thai Green Curry is definitely one of the most Exotic healthy foods. It can be had in both Vegetarian and Non-vegetarian ways. Traditionally, the recipe uses chicken, shrimp and fish but the modified version eliminates all the animals.
Jam pack it with healthy vegetables and it will look delicious and creamy. If you want more fillings then you can use tofu. This dish will turn into a superfood after adding tofu. This might not be one of the most exotic food in the world but it sure as hell is the healthiest food in the world.
Japanese – Best exotic food in the world
Japan is the cultural and technological hub of the world but Japan can give you some of the most exotic foods in the world. Exotic dishes from around the world are Fascinating, Glamourous, Alluring and Colourful but Japanese exotic foods are also some of the healthiest foods on the planet.
Thanks to Japan we have tofu, green tea, fermented vegetables and oily fish. Because of all these Japanese people live longer than any other people on the planet.
Let's get it Started…
Vegan Okonomiyaki
It's a grilled savoury pancake that is filled, usually with cabbage and prawns, and then topped with fish flakes, dried seaweed and a mayonnaise and a Worcester-style sauce.
Okonomiyaki is usually made with eggs, veggies and meat. If you want to add some colour then use chickpea flour and black salt for the eggy flavour. The sauce is made from vegan mayo and pickled ginger. The best thing about this recipe is that you can make it with vegetables you have in your fridge.
Evidently, using vegetables is healthy. Hence, the healthiest exotic vegetarian food.
---
Fugu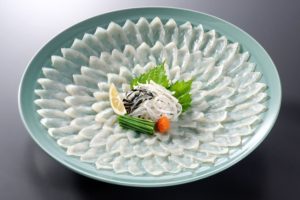 Talk about Exotic Dishes from around the world, Fugu is one of the best dishes in the world. Fugu actually the Japanese name for the puffer fish, a poisonous fish that can be toxic to the point of total paralysis.
In the hands of an expert chef, there is nothing to worry about because he knows what he is doing. Like much Japanese food – Fugu has a light taste and gives a dining experience of a lifetime. From all the exotic food around the world, this dish is a little dangerous.
Now that we talked about some of the most Exotic foods in the world. Now let's talk about some exotic foods that are some of the healthiest exotic foods of the world.
---
Exotic and Nutritious foods for Better Health
If could write about Exotic dishes from around the world, I would write a series of books on them. But we've talked enough about the exotic foods to try before you die. Now let's talk about exotic foods that are healthy. This list is also long. So, sit back and enjoy the rest of the article.
Coconut Milk – Healthy Exotic Beverage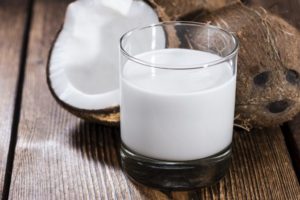 This healthy exotic beverage is called miracle food because it has an array of health benefits. Coconut milk falls into the category of exotic foods and beverages. You can also call it most exotic vegetarian food because it will improve your heart health by lowering blood pressure and cholesterol, Helps in muscle building and fat loss, provides electrolytes and prevents fatigue and many many more.
It is safe to say that if you consume half a cup of this most exotic vegetarian beverage on a regular basis then your health will be better then ever before.
---
Saffron – Exotic healthy foods
The word exotic suits Saffron a lot because it is the most expensive spice in the world. It helps in relieving anxiety and tension, improves fertility and also improves eyesight. You only have to take a little bit of Saffron – the most exotic food in the world.
---
Brazil nuts – Exotic healthy foods
Brazil nuts are dense in nutrition and are without a doubt one of the healthiest exotic foods in the world because they aid in the digestive system, help in cutting down weight, improve heart health, improve hormone function, treat acne and boost the immune system.
Include Brazil nuts in your diet and become healthy each day. It also contains protein which helps in repair and growth of the body. It is one of the most exotic vegetarian food.
---

Kimchi –  Exotic healthy foods
Kimchi is a Korean healthy exotic food. It is filled with Vitamin A, B and C but it's biggest health benefit is that it helps in digestion. Kimchi is also used in some of the Exotic dishes from around the world.
---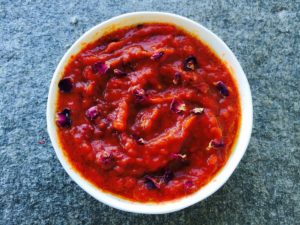 Harissa – Exotic Healthy Foods
Harissa is a Tunisian exotic food, it is actually a Tunisian hot sauce.
It is high in vitamin C and helps fighting inflammation, burns fat, lower blood pressure.
You have to use this Exotic healthy food lightly because it can burn your mouth.
Harissa is similar to Wasabi which is Japanese cuisine.
---
Sardines – Exotic Healthy Foods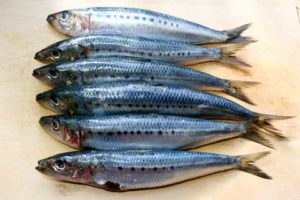 They may be small in size but they are packed with nutrition.
They are exotic healthy foods but they are also used in Exotic dishes from around the world. Sardines are packed with protein and Omega – 3.
Sardines promote heart health and it reduces the risk of prostate cancer. If you want them to have in a simple way then grill them 3 minutes each size or wrap them in grape leaves to hold them together and for added flavour.
---
Black Rice – Exotic Healthy Foods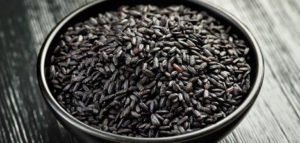 The other name of Black rice is Longevity rice. It is a powerful antioxidant food that has an array of health benefits. They are black in colour because of high anthocyanin content even higher than blueberries. Black rice is high in amino acids, iron, zinc, and other minerals and the B-complex group of vitamins.
All the nutrients present in Black rice make it superior to brown rice. The only drawback of this exotic food is that it is found in few parts of the world such as Southeast Asian countries and Northeastern Parts of India. This makes it less popular than other rice qualities and hinders the fame it deserves.
---

Mangosteen – Exotic Healthy Foods
This fruit deserves the title of "Queen of Fruits". It is one of the most exotic food in the world because this purple-coloured fruit with tantalizing taste and white flesh is native to the land of Durian.
This fruit is super hard and takes a bit of an effort to break it open but once it opens you get one of the best tasting sweet flesh. Commercial cultivation of this wonderful fruit has started but they are not widely available as yet.
Let's Wrap up – Exotic dishes from around the world
I've listed few of the Exotic dishes from around the world in here for you. You have to try these exotic foods once your lifetime. There are some most exotic vegetarian food mentioned in this article, I've made it simple for you because if you are a vegan or a vegetarian then you should not be left behind. This is not just about most Exotic meats in the world.
Like I've said before some of the most exotic food in the world can break your bank account but if not all you can try at least try a few in your lifetime. Exotic food all around the world is seen as a sign of luxury and it is had by only rich people but the exotic food around the world I've mentioned in this article can be had by anyone. I've also mentioned exotic foods that are healthy and these exotic foods to cook at home are also easy to make.
If you want to learn How to cook exotic foods? Then stay tuned to this space.
Until then,
Happy Eating.