Read Time:
5
minutes
In a Young Age, we can eat anything we want and stay skinny and healthy ( I miss those days) but as we grow up we need to take care of ourselves. Nutrition for young adults is very important because there is a saying which goes by "You are what you Eat". If you don't eat healthy then your health will be damaged, you won't look as good as you use to and your Fitness/Stamina, well need I say more!!!
There is one thing I always say, "Nutrition is Everything". It doesn't matter if you workout for four hours. If your diet is not on point then your hard work will go to waste. There is always a question, What nutrients do young adults need? I will tell you everything and in excruciating detail. So, hang tight.
What nutrients do young adults need?
Protein – Nutrition for Young Adults
Let me first tell you the importance of Protein. It is the building block for muscles, bones, skin & blood of our bodies. Enough protein will keep you alert like a cat, will reduce cravings and will normalize your blood sugar levels. Being this important protein is required for proper nutrition for young adults.
Why is protein important for the body?
Most of us know the Power of Protein. It is the main macronutrient for building muscles, all the fitness buffs know it. The real power of protein is still unknown by most people. Allow me to explain.
It is an important component of our body. It is a micronutrient which means our body needs it huge quantities. Our hair and nails are made up of protein. Protein is needed to repair & build tissues by our body. The bones, skin, blood, muscles and cartilage is made of protein. That's the real power of protein.
How Much Protein Do I Need?
When you join a gym, the trainer tells you to eat protein like crazy. He tells you to eat as much protein as possible (talking about inexperienced trainers here). The nutrition specialists have a totally different story here. So, How much Protein is enough?
For teenagers, the recommended amount of protein in a day is 198 Grams.
Toddlers from age 2 to 6, older adults and most of women the recommended amount of protein is 142 Grams.
For teenage girls, most men and older children the recommended amount of protein is 170 Grams.
Which foods are high in protein?
Protein is necessary but what are the main sources of protein in our diet? There are several sources of protein but the cheapest & the most convenient source of protein is Eggs. The white portion of a hard boiled egg contains "Lean Protein" and not just lean protein, It contains Amino Acids, Omega-3-6-9 and several other vitamins & minerals.
The other amazing sources of protein are:
Salmon
Sardines
Chicken Breasts
Red Meat
Nuts
Quinoa Seeds
Broccoli
Peanut Butter
Soy
Dairy
Tofu
Vitamins & Minerals – Nutrition for Young Adults
What nutrients do young adults need? The answer to this question is simple – Vitamins & Minerals because they are THE MOST important nutrients you need. Vitamins important for our health are has follows -, B1, B2, B3, B6, B12, Vitamin C, D, E, Folic Acid.
List of Vitamins and Minerals and their sources:
All the Vitamins you Need: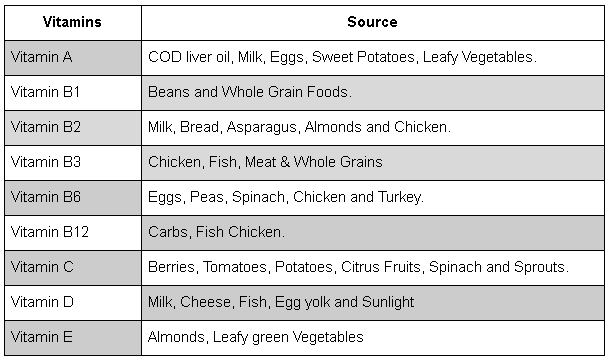 List of Minerals: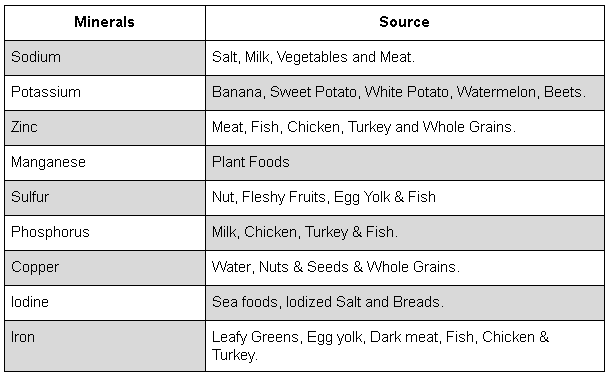 Carbohydrates – Nutrition for Young Adults
Carbohydrates work as a fuel for your entire body but lately carbs have been seen as an enemy. Everyone thinks that carbs make them fat but the truth is only Simple Carbs make you fat. If you consume complex carbs, it helps you maintain your weight because complex carbs stop your cravings and don't let you eat junk food.
Proper nutrition for young adults requires an adequate amount of carbohydrates. Carbs contain vitamins, minerals and fibers. It also boosts up your Immune system. The main source of carbohydrates is Whole grains which contains bran, endosperm & sperm. The young adults should have around 3 to 4 servings of whole grains in one day. The other sources of carbohydrates are Brown Rice, Barley whole oats and Whole Popcorn.
Why Are Carbohydrates Good For You?
We have all heard that Carbs are bad for you. You might be thinking that why am I saying that Why are Carbohydrates good for you? The reason behind that is Carbs are actually good for you. All you have to do is eat Complex Carbs.
What are Complex Carbohydrates?
Complex Carbohydrates are made of sugar molecules which are strung together in long complex chains. Complex Carbohydrates take a long time to digest. Hence, reducing the cravings which helps in losing weight. Simple Carbs gets digested faster and gets turned into Glucose a.k.a Blood Sugar faster which spikes the insulin and causes Diabetes. Foods that contain Complex Carbohydrates are Beans, Whole Grain, Vegetables and Peas.
Back to the main question Why Are Carbohydrates Good For You?
Carbohydrates can boost your mood. Carbs produce serotonin which is a feel good brain chemical.
Carbs can help you maintain a healthy weight. This macronutrient contain dietary fiber, which is a indigestible complex carb.
Carbs are good for your heart. Good Cards can reduce the Bad LDL cholesterol.
Carbs are good for your Brain.
Carbs help in Fat Loss. Eating slow releasing Carbs 3 to 4 hours before your workout will help you lose fat.
How Much Carbohydrates do I Need? According to the Dietary Guidelines, an individual must consume 45 to 65 percent carbs of his daily calories. In other words, 225 grams to 325 grams of carbohydrates daily.
Healthy Fats – Nutrition for Young Adults
Believe me, Fats are important for your health. Fats consumed by Nuts & Seeds are the best to keep your brain and heart healthy. We don't need much fats in our diet but they are very important in our diet. They are important because they are rich in energy and essential fatty acids.
How Much Healthy Fat Per Day?
According to experts, a healthy individual needs around 57 grams of healthy fat per day. If you consume 3 meals than you should have 1 meal of almonds with each meal i.e, 1 oz of almonds. This will fulfill your requirement of daily fat. Healthy fats must be included in the nutrition for young adults.
Fatty acids help in keeping our skin healthy, develop our brain and also helps in absorbing various nutrients. But what are the main sources of fat in our diet?
Sources of Fat
Almonds
Cashews
Walnuts
Pistachios
Avocados
Olive Oil
Fish
Fish oil Supplement
Multivitamins – Nutrition for Young Adults
Multivitamins can be called a shortcut to get all the nutrients in one go. The Multivitamin tablets are very balanced when it comes nutrients. They contain each & every micronutrient. If you eat all of the above-mentioned foods then there is a chance that you will have all the vitamins and minerals essential for the body but if you can't have all the nutrients then you need to consume a Multivitamin on a daily basis to get all the nutrients.
There are several multivitamins available in the market. Choose your multivitamins by checking the Nutritional label on the box. Consult your doctor or physician regarding the consumption of the multivitamins and their dosage.
To Wrap It Up – Nutrition for Young Adults
Nutrition for Young Adults plays a major part in the lives of individuals who are at the threshold of adulthood. Your body is going through a lot of changes during that period. If Nutrition is not up-to-date then you will not feel healthy at all and you will feel fatigued all the time. If you want to leave a healthy life then you have to eat a balanced diet consisting of all the nutrients.
Eat Clean. Stay Fit.