Read Time:
7
minutes
All my brothers staying in a Hostel will agree with me that the food in hostels SUCK. Diet plan for hostellers is sometimes hard to make because of budget constraint. So, today I will present to you "Easy healthy meals for college students on a budget".
There are two things that happen if you stay in a hostel. Either you gain weight or you become too skinny. You don't want either of those. When there is a lot of stress to study and maintain your grades, you start to look for comfort food. That's when junk food enters your life and things start to get bad. Junk food is addicting and you start eating it more and more.
Side by side there is a lot of pressure to study, get good grades, get a good job etc., I understand the pressure, I've been there. First I gained a lot of weight then my health started to deteriorate. My performance in college got bad but then I realised that things are going south and additionally when I saw my self in the mirror I after a few days I got shocked.
I Googled "Healthy Food for Hostel Students", got a little idea and then I started eating healthy. I made a diet chart for myself and started losing weight. It work a little and then I had to tweak it to get good results. After a few altercations, I got a perfect Diet Chart. I am going to share my Diet Plan for Hostel Students with you.
Let's talk about Best diet chart for students who stay in a hostel in detail.
Diet for Hostel Students
In my guide for healthy meal ideas for college students, I need you to understand that your metabolism is going to slow down if you are not eating the right foods. Believe me, I know what I am talking about. First, you need to make a list of things you already eat at the hostel mess.
There are a few things I would like you to avoid If you want to get fit.
Potatoes
Rice
Oily Food
Junk Food
Cold Drinks
Sugary Diet
Smoking (If you do)
Drinking (If you do)
Then I would like you to add these nutritious food items in your diet:
Oats
Eggs
Milk (Toned)
Fruits
Veggies
Peanut Butter & Brown Bread
Nuts and Seeds (Not the Expensive Ones)
Cooking for college students can be tough especially when they are staying in a hostel. So, I've enlisted a few things which don't require cooking and are easy to make. These ideas of healthy meals for college students to lose weight demands you to eat 5 to 6 times a day.
I'll divide the Meal plan according to Breakfast, Post Breakfast snack, Lunch, Post Lunch Snack, Dinner and Before Bed meals.
Wake up early and prepare meals for the entire day.
Let's talk about Nutritional Value:
Breakfast – Oats – Diet Plan for Hostel Students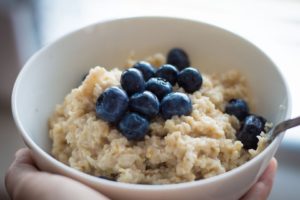 Don't scrunch your nose when you hear "Oats". They can be very bland but I'll tell you How to make them tasty!!!
Eat your breakfast between 7 to 7:30.
First, take a cup of oats.
Put them in a bowl and put some curd on it.
Chop a banana into it.
Mix it thoroughly and set it aside for half an hour.
Then enjoy your healthy Breakfast.
A pack of oats will cost you around 230 Rs and it will last for around 15 to 20 days. A healthy diet plan for hostel students to lose weight on a budget is totally cheap.
Oats are a healthy source of Protein, Complex Carbohydrates and Fiber. Protein helps in muscle growth and muscle building. Complex carbohydrates digest slowly and give you a steady source of energy for a long period of time unlike simple carbohydrates and Fiber helps in digestion and keeps you full for a longer period of time. Most easy recipes for students on a tight budget.
Post Breakfast – Eggs – Diet Plan for Hostel Students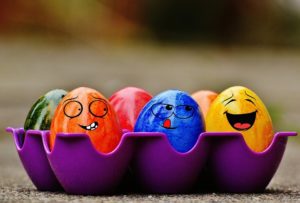 The time to eat eggs is between 10 to 10:30. Boiled Eggs to be precise, eat 4 eggs (3 egg whites and 1 whole egg). Food for hostel students in the mess lacks most of the nutritious elements. Eating egg whites will give you energy and will help you build muscle.
A single egg will cost you around 6 rs. So, this meal will cost you around 24 Rs. Easy healthy meals for college students on a budget indeed.
Eggs are an amazing source of Protein and Amino Acids and both of these essential nutrients are in perfect ratios.
Other than Muscle building, eggs are good for your eyes, heart and will help you in losing weight because there are fewer calories but avoid eating the yolk because it contains Fat and Sodium.
Excess Sodium is bad for your heart and because of it, your body will hold water and you will feel bloated and heavy throughout the day.
Lunch – Salad – Diet plan for Hostel Students
Healthy food for hostel students is critical to get because most of them are on a tight budget. My weight loss tips in hostel will require you to go out and do some grocery shopping.
Don't worry, your brother has got you. I am going to give you a few suggestions that you are going to thank me for in the future.
Your lunchtime should be between 1 to 1:30. Get the things mentioned below.
Cucumbers
Tomatoes
Carrots
Spinach
Oranges
The veggies and fruits I've mentioned on the list are not costly. Every time you eat lunch, take one vegetable each and chop them into a bowl and mix them together. Peel the orange and keep it separate for the end. After you chop all the vegetables, you can sprinkle two pinches of salt on it for taste.
The combination of Cucumbers, Tomatoes, Carrots and Spinach is the best and very nutritious. Chop them up in the morning and carry them in a tiffin box for lunch. If you continue this for 1 month, you will see your body change every week. These are some Cheap Healthy meals for college students and hostel students to follow.
Post Lunch – Peanut Butter & Brown Bread – Diet Plan for Hostel Students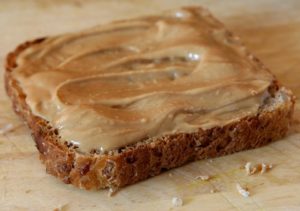 This is one of the cheapest and the healthiest foods for hostel and college students. I know peanut butter is costly but the amount you are going to use in this snack is very little so it will last you two months. Pretty Convenient, right?
If you buy a packet of Brown Bread then it will last you for 3 days. A pack of brown bread costs around 40. Rs. This also costs less. Talk about easy healthy meals for college students on a budget, this one is the best.
Now, take a piece of brown bread and apply a quarter tablespoon of Peanut butter on it and spread it. Do it for 3 more pieces and make it a total of four pieces. This snack will provide you with protein and enough fibre which will last two to three hours.
Most of the hostel students can't cook. So, forget Maggi and follow these Cheap healthy meal ideas for hostel students to eat healthily and to stay fit.
Dinner – Salad – Diet plan for Hostel Students
After eating throughout the day you will feel less hungry during dinner. If you feel less hungry, Good!!!.
If you feel very hungry at dinner time, Better. It means your body is responding well to this diet. I am going to repeat the things that you ate in Lunch.
Just chop them up into a bowl and eat with a little salt on it. At night, you can eat two chapattis from your mess. This will do you no harm. To make the easy healthy meals for college students on a budget, I've added two chappatis because it will make you feel fuller and it will stop your cravings. This is the best diet for hostel students, if followed properly, it can work wonders.
Before Bed – Milk (toned) – Diet plan for Hostel Students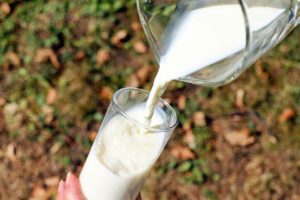 This will be my easiest food recipes for hostel students. In a mix of cheap healthy meal plan for college students, it doesn't get easier and cheaper than this. Just buy a Tetrapack of milk, which doesn't need boiling. Just pour a glass of milk before you are going to sleep.
When your Grandma said that drink a glass of milk before sleeping, she was absolutely right. It will help you sleep better. It contains Casein Protein which is a slow digesting protein and it will provide nutrition to you throughout the night while you are asleep. These easy healthy meals for college students on a budget are nutritious, tasty and time-saving and milk has Calcium which is very important for your bones.
There you have it
What I just shared with you is the Best diet for college students and the best diet for hostel students. Eating clean is not easy and it is time-consuming as well but If you dedicate yourself to being fit, you will see your life change in front of your eyes. These easy healthy meals for college students on a budget are a tried and tested formula. It will surely help you to lose weight.
You will have more energy, more drive to do things and you will feel confident all the time. Cooking for college students is not easy and it is not possible sometimes because boys at this age can't cook.
There is a saying which goes like "You are what you eat". It can't get better than this. Whatever you eat will turn into your body cells and will become a part of you. Eating healthy for hostel students is important because if you eat unhealthy for 2 to 3 years, depending on your course will really affect your health. It will take you ages to get back what you lost.
If you get malnutrition, you will lose your hair and once your hair are gone there is no getting them back.
So, Eat wisely, Live well.