Read Time:
14
minutes
Jingle Bells… Jingle Bells… Yes, Christmas is around the corner and kids as well as adults are excited about the gifts and the joy this holiday brings with it.
I especially love this holiday because of all the food I can eat. I forget all the calorie counting and just eat all I can because it is soooo delicious.
Let's change all our eating habits this Christmas with My Healthy Holiday Recipes for Christmas.
Who says that a Christmas Dinner can't be a Healthy Christmas Dinner. Transform this Christmas into A healthy Christmas, a Merry Christmas
I've got a few Christmas Dinner Ideas and Healthy Christmas Recipes for your entire family to enjoy. So, let's dig in…
Healthy Holiday Recipes for Christmas
Table of Contents
The First one on my List is…
Fresh Ham with Red Pepper Glaze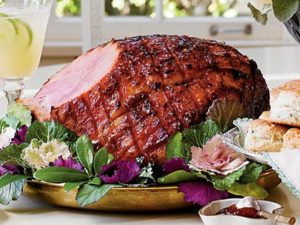 For this Healthy Christmas Food, you have to look for meat that hasn't been cured or smoked. To make it extra tasty and healthy you might have to special order because many markets keep a stock of fresh hams.
Your butcher is the one to be approached, ask him to remove the skin and leave a layer of fat to self-baste the ham as it roasts. It will turn out to be the favourite dish of your family as it is done. Believe me!!!
Now, what all do you need to make this Healthy Christmas Dinner? Let's see the list.
Bring forth the Ingredients
For Brine and Ham
2 cups of light brown sugar
1 cup kosher salt
12 whole cloves
6 quarts water
4 bay leaves
12 allspice berries
2 cups ice cubes
10 to 12-pound shank-end fresh ham
For Roasting
5 cloves garlic, chopped
2 tablespoons extra-virgin olive oil
1 tablespoon kosher salt
1/2 teaspoon crushed red pepper
6 medium leeks
For Red Pepper Glaze
1/4 cup honey
1/2 cup red pepper jelly
1 tablespoon light brown sugar
1 tablespoon grated fresh ginger
Let the Preparations begin (Step by Step)
This Healthy Holiday Recipe for Christmas will take some time to prepare but believe me it is going to be finger licking good.
Step 1 
To brine Ham, heat water then add 2 cups of brown sugar, 1 cup salt, allspice, bay leaves and cloves in a large pot. Over a medium-low heat, stir all the ingredients until the sugar and the salt are dissolved. When all the ingredients are mixed then add ice and stir the pot to cool the liquid down.
Step 2 
Score fat of ham into a 2-inch wide making a crosshatch pattern. Make sure that you don't cut the meat into pieces and the submerge the brine and refrigerate for 2 to 3 days.
Step 3 
Roast the Ham in a preheated oven at 450° F.
Step 4
Pound garlic, thyme and salt to a paste using a mini food processor or if you don't have one use a mortar and pestle. Transfer the paste to a bowl and then put some oil and crushed red pepper and stir until properly mixed. Remove the Ham from the brine and dry it thoroughly with a pat dry paper towel. In the end, rub the paste all over the ham and fill the gap between crosshatch pattern on the ham
Step 5 
In this step, you need to trim the end and the top inch of greens from the leeks and then cut them half. Dunk them into a large bowl of water and gently separate the layers to remove any grit whatsoever while keeping each piece together. After this drain the leeks thoroughly.
Step 6
Arrange a layer of leeks in a large roasting pan. Set the ham on the top of the leeks with the fat cap facing upwards. Then, roast in the middle of the oven for 20 minutes.
Step 7
We have to prepare the Glaze in this step. Place a small saucepan on a stove and put jelly, ginger and brown sugar and stir until the sugar melts and then remove from heat.
Step 8
After removing the Ham from the oven after 20 minutes, brush the ham with 1/4 cup of glaze.
Step 9 
Reduce the oven temperature to 300°. You have to roast the ham with 1 tablespoon of glaze every thirty minutes until an instant-read thermometer inserted into the thickest part without touching the bones registers 150° F. Do it for around 3 hours i.e you have to put 6 tablespoons of glaze every half an hour for 3 hours while roasting in the oven.
Step 10
Your Fresh Ham with Red Pepper Glaze is ready in this step. Transfer the ham to a clean cutting board. Cover it loosely with foil and let it rest for 20 minutes before slicing. You can use leeks for garnishing if you want it to.
Nutritional information of Fresh Ham with Red Pepper Glaze
As our motto is to cook Healthy Holiday Recipes for Christmas we should know the nutritional value of what we are eating. Let's see what macro and micronutrients does Fresh ham with red pepper glaze contains.
The serving size is 3 oz, Ham.
In 3 oz of ham, you will get…
215 calories
5 g fat
9 g carbohydrates
31 g protein
o mcg folate
o g fiber
8 g added sugar
40 IU vitamin
88mg cholesterol
9 g sugar
1 mg iron
536 mg sodium
23 mg calcium
521 mg potassium
If you add this to your Christmas Dinner Menu then your belly and your muscles will thank you because it contains a lot of protein. Follow these Healthy Holiday Cooking Tips and serve Healthy Christmas Meals for your entire family.
Let's move on to the next Christmas Food Ideas.
N0 Bake Pumpkin Cheesecake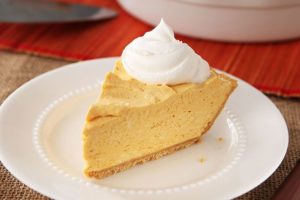 A Christmas dinner is not complete with a baked dish. So, to complete your Healthy Christmas Baking, I am going to present to you the No Bake Pumpkin Cheesecake. Mouthwatering isn't it?
In the list of Healthy Holiday recipes for Christmas, this one is my favourite because you can serve it for your Healthy Christmas Dinner or as Healthy Christmas Treats or you can even serve these as Healthy Christmas Desserts.
This dish is all in one for your Healthy Christmas Dinner Menu. So, let's get straight to the ingredients and the preparation of this wonderful Christmas dish.
Ingredients for N0 Bake Pumpkin Cheesecake
For Graham Cracker Crust
3 tablespoon canola oil
2 tablespoons sugar
3/4 cup finely crushed graham crackers
For Cheesecake
1/4 cup water
1 (15 oz) can pumpkin
1 (.25 oz) envelope unflavored gelatin
1/2 (8 Oz) container light cream cheese
2 tablespoon sugar
1 teaspoon ground cinnamon
Ground cinnamon, chopped toasted pecans, and/or pomegranate seeds
Frozen light whipped dessert topping, thawed (optional)
Preparation of N0 Bake Pumpkin Cheesecake (Step by Step)
I love the cooking or the preparation part of a meal.
Step 1
First, you need to prepare the graham cracker crust. To do that you need to preheat the oven to 350°F. Take a small bowl, combine crushed graham crackers, 2 tablespoons sugar and canola oil. Mix it very well and spread evenly in the bottom of an 8 or 9-inch springform pan. Press the mixture firmly into the bottom and bake for 5 minutes. Remove it from the oven after 5 minutes and cool it on a wire rack.
Step 2
We begin to prepare the cheesecake in this step. Take a small saucepan, mix water and gelatin and stir thoroughly and let it stand for 5 minutes and let it settle down. place the saucepan on low heat and stir until gelatin dissolves and then set the dish aside to cool it down.
Step 3
Take a large bowl and put some cheese in it and beat it with an electric mixer on a medium speed until the cream cheese is soft and smooth. Add sugar, pumpkin and 1 teaspoon of cinnamon and add the gelatin mixture as well. Beat with an electric mixture until it is properly mixed. Add the three-quarters container of dessert topping. Spread mixture into crust in springform pan. Cover the whole thing and refrigerate for 4 to 24 hours or set.
Step 4
Loosen the cheesecake from the side of the springform pan using a thin metal spatula or a table knife. You can also use a wide spatula to remove the cheesecake from the bottom of the pan and place it on a serving plate. The other option is that you can also it into pastries and serve it your family members individually. Use whipping cream as toppings for garnishing or add chopped pecan or pomegranate seeds. These make excellent garnishing toppings as well.
Tips for you
To make it easy to remove the seeds from the pomegranate, cut it in half through the skin and then remove the peel. Break the fruit into sections and then separate the seeds from the membrane. It probably easier this way otherwise it takes a lot of time. If you have a bunch of pomegranates to peel then it takes you forever.
If you want nuts as toppings then you have to toast them. Put some nuts in a shallow baking pan lined with parchment paper. Bake them in a 350° F oven for 5 to 10 minutes or until they turn golden, Shake the pan once or twice while baking.
Nutritional Information of No Bake Pumpkin Cheesecake
The serving size 1 ( 1 Piece)
In 1 serving you are going to get…
150 calories
1 g fibre
8 g fat ( 4 g saturated fat)
5 g protein
11 mg cholesterol
4 mcg folate
7 g sugars
1 mg vitamin C
5,031 IU vitamin A
1 mg iron
44 mg calcium
144mg sodium
24 mg potassium
Bonus: Vitamin A = 101% daily value
This Healthy Christmas Food is jam-packed with vitamins and minerals. There is enough calcium for your bones in this dish and it also contains fibre and protein for healthy muscle growth. There is 101% value of Vitamin A which is great for your skin. Evidently, it is super healthy
If I had a Healthy Christmas Dinner Menu then I would definitely make it as one of my Healthy Holiday Recipes for Christmas. 
I am sure that you will really like these Healthy Christmas Recipes. Let's move on to the next one.
---
Peanut Apple Crunch Ball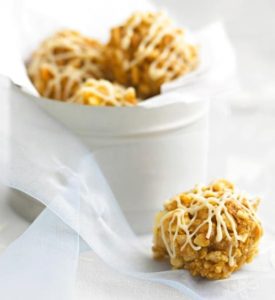 These healthy Christmas treats are mouthwatering by just looking at them. These treats are small and can be used as healthy Christmas snacks for kids or healthy Christmas snacks. 
From all the Healthy Holiday Recipes for Christmas, this recipe is the easiest to make and can be served for kids, adults as a part of Christmas dinner or Healthy Christmas desserts. So, without waiting let's see the ingredients list to surprise your taste buds.
Ingredients for Peanut Apple Crunch Balls
1/4 cup honey
1/3 cup chunky peanut butter
1/4 cup 68% vegetable oil spread
1 cup rice and wheat cereal flakes, coarsely crushed
1/3 cup finely snipped dried apples
1 cup bran flakes, coarsely crushed
1/8 teaspoon apple pie spice
1/4 teaspoon shortening
2 ounces white baking chocolate
Let the tasty preparations begin (Step by Step)
The prep time for this delight is very less.
Step 1
Take a medium Saucepan. Mix peanut butter, vegetable oil spread and honey. Heat and stir the mixture just before it is about to boil and then remove it from heat.
Put cereals, peanuts, apples and apple spice until the mixture is properly mixed. Shift the mixture to a small bowl and cover it and leave it to cool down for 30 minutes.
Use slightly wet hands and form 1-inch balls from the mixture by gently pressing the mixture together. To your fair notice, the mixture will be bit loose and crumbly. If pressing gently doesn't work then roll the mixture between your palms until the mixture turns into balls. Leave the balls on a parchment or a waxed paper-lined baking sheet for about 15 minutes or until they are firm.
Step 2
Use a saucepan and combine white chocolate and shortening. Heat and stir the mixture until it is completely melted. Drizzle the balls into the melted white chocolate. Cove the balls completely into the mixture and leave them for 15 minutes to cool them down. Cover them and refrigerate.
Nutritional Information of Peanut Apple Crunch Balls
Serving Size = 1 Ball
In 1 ball you will get…
102 calories
1 g fibre
6 g sugar
11 g carbohydrates
56 mcg folate
2 g protein
0 mg cholesterol
208 IU vitamin A
8 g sugar
10 mg calcium
1 mg iron
67 mg potassium
1 mg vitamin C
It is so nourishing to the body because it has a lot of natural ingredients in it.  It has calcium, potassium, vitamin A and C, fibre, protein, iron and many more. If you have two Peanut Apple Crunch Balls after your Healthy Christmas Dinner then you will receive all the nutrients you need for a day.
In my opinion, these Healthy Christmas treats are a far better healthy Christmas snacks for kids instead of a normal snack. Other snacks contain refined sugar, on the other hand, these snacks contain all natural ingredients and are very nutritional. These snacks can replace the normal snacks on a daily basis. A perfect list of Healthy Holiday Recipes for Christmas.
---
Random Christmas-y Thoughts
Before we move on to our list of healthy Christmas recipes, let me share some thoughts regarding Christmas.
Christmas is undoubtedly the most special time of the year.
The kids are excited about the presents and the adults are excited to present the gifts to the kids.
There are Christmas decorations all over the town and people have a healthy competition on who's Christmas decorations are the best!!
You get to spend time with your irreplaceable loved ones. Everyone is happy.
In this time of the year, let's not forget the Less Fortunate. People who can't afford a meal or people who can't afford warm clothes.
Let's take out some time to give back to the community this year and make it a practice every year. Prepare some food at your home or if you don't have enough time then get it packed from a dinner and distribute it among the homeless.
It is also one of the coldest days of the year. So, donate some warm clothes to a charity or an NGO which can help them buy warm clothes. The better option is to find some homeless and distribute some warm clothes yourself.
Volunteer at a shelter and distribute a warm meal to a homeless person.
A good deed has a ripple effect. If you do a good deed today, you will get some blessings.
Donate something to the homeless and watch their face brighten up.
---
Let's get back to our list of Healthy Holiday Recipes for Christmas
Vegan Scalloped Potatoes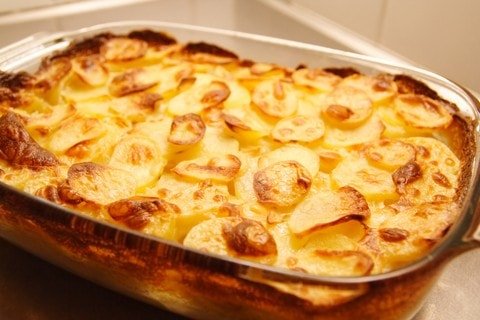 These Scalloped Potatoes are one of the amazing Healthy Holiday Recipes for Christmas because it is surprisingly rich and creamy without any usage of dairy products. The name Vegan Scalloped Potatoes is the best suited for this dish.
We are going to use herbs, spices and almond milk to make a wonderfully flavorful sauce and we are going to garnish the dish with tasty, nutritional and crunchy almonds. Vegan food at it's best – all organic no chemicals, no gluten, no meat.
It is going to make a very satisfying side dish. It is also favourable for people who are lactose intolerant and perfect for Vegans.
Bring forth the Ingredients
1½ pounds of sweet potatoes, peeled and cut into 1/4-inch slices
1½ pounds of Yukon Gold potatoes also cut into 1/4-inch slices
1 tablespoon extra-virgin olive oil, divided
1/2 teaspoon white or black pepper, divided
1 teaspoon salt, divided
1/2 teaspoon garlic powder
1.2 teaspoon paprika
2 and a half cups unsweetened plain almond milk
1 small onion, finely chopped ( 1 cup)
3 tablespoons all-purpose flour
1/4 cup sliced almonds
2 teaspoon fresh thyme
The Prep time for this Healthy Christmas Food is 45 mins and I would definitely include it in my Healthy Christmas Dinner Menu
Preparation of Vegan Scalloped Potatoes (Step by Step)
Step 1 
Position the racks you are going to use in the upper and the lower of the oven and preheat it to 425° F.
Step 2
Place a large bowl and put potatoes and sweet potatoes with 2 tablespoon oil, 1/2 teaspoon salt, 1/4 teaspoon pepper and garlic powder and mix them until they are covered in the mixture of the spices.
Now put the potato and spice mixture in 2 large baking sheets and spread it in an even layer. Roast and keep rotating the pans from top to bottom and halfway through. Roast them until they are tender and begin to brown. Do this up for 20 to 25 minutes.
Step 3
While the potatoes are roasting, take a large saucepan over medium heat and add 2 tablespoons of oil, onion. Cook and stir the onions up to 5 to 8 minutes until they are soft and golden brown. Add flour and the remaining 1/2 teaspoon salt, 1/2 teaspoon pepper and stir it for 1 minute.
Add almond milk and stir and keep stirring and scraping up the brown bits from the bottom of the pan. Increase the heat from medium to medium-high and keep stirring until the sauce thickens and bubbles start to form. All this will happen in 3 minutes and once bubbles start to form, remove the saucepan from the heat.
Step 4
When the potatoes are roasted properly then remove them from the oven and preheat the broiler. Shift the potatoes to a 2 quarter broiler-safe baking dish. Spread half of the sauce over the potatoes and then add the remaining potatoes and top with the remaining sauce, paprika and almonds.
Broil and you have to be careful, keep them on the broiler for 1 to 5 minutes and see whether the sauce is bubbling and the almonds are beginning to brown. This depends on the broiler. Let it cool down for 10 minutes and then garnish it with thyme and serve.
Nutritional Information on Vegan Scalloped
The serving size is 1/2 cup
In 1/2 cup you get…
199 calories
8 g fat
30 g carbohydrates
4 g protein
4 g fibre
23 mcg folate
5 g sugar
0 cholesterol
13,266 IU vitamin A
157 mg calcium
18 mg vitamin C
1 mg iron
651 mg potassium
303 mg sodium
Nutrition bonus: Vitamin A ( 265% daily value), Vitamin C (30% DV)
---
Farro Salad with Cranberries Persimmons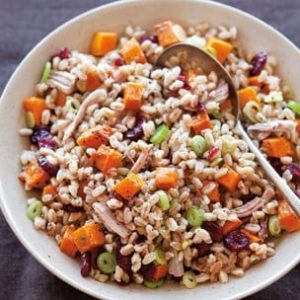 Farro Salad with Cranberries Persimmons is one of the healthiest foods on the planet. I would recommend you to add this salad to your Healthy Christmas Dinner Menu.
While shopping for the ingredients of this healthy salad recipe, you have to make sure that you pick up the right type of persimmons. Choose a flat-bottomed Fuyus which are bright orange and have the texture of an almost-ripe peach when ready to eat. This is perfect for salsas and salads, with or without the peel.
Larger Hachiyas are oval-shaped and darker orange is only edible when almost liquid on the inside.
Let's see the Ingredients in detail:
2 cups pearled farro
1/2 cup halved and thinly sliced red onion
4 cups water
2 tablespoon sherry vinegar
1/4 cup lime juice
3/4 teaspoon kosher salt
4 cups baby arugula
1/2 cup dried cranberries
1 pound Fuyu persimmons or firm ripe mangoes or apples – chopped
1/4 cup extra-virgin olive oil
Freshly ground pepper to taste
Let the preparations begin ( Step by Step)
Step 1 
Take a medium saucepan and then mix water and farro and heat it until it boils. Reduce the heat to simmer and then cover and cook until the farro is just tender. It is going to take 20 to 25 minutes. After it is tender, drain the excess water and then rinse it again and then rinse it again, well.
Step 2
Combine onion with lime juice, salt and vinegar in a large bowl. Leave it on standby for 5 minutes. Stir in persimmons (or mangoes or apples), cranberries, oil and the farro.
Step 3
Before serving, put in arugula. Transfer the salad to a serving platter or bowl and garnish with pepper.
Nutritional information on Farro Salad with Cranberries Permissons
The serving size is 3/4.
Per serving you you will get…
218 calories
3 g fibre
6 g fat
40 g carbohydrates
10 mcg folate
4 g protein
o mg cholesterol
4 g added sugar
7 g sugar
23 mg vitamin C
164 IU vitamin A
37 mg Calcium
138 mg Potassium
2 mg iron
125 mg sodium
Nutrition Bonus: Vitamin C (38% daily value)
Final Thoughts
Christmas is a very special day. People wait for the holiday for a long time and it comes and goes too soon. Eating with your loved ones is one of the greatest blessings one can have. Enjoy these blessing with Healthy Holiday Recipes for Christmas. All the above Healthy Christmas Recipes are amazing and so healthy that they will help you stay healthy throughout the holiday seasons.
Holiday seasons go on for a long time and if you eat unhealthy things then it can take a toll on you. If you don't count the calories then you will be bloated by the time Christmas ends. Make a Healthy Christmas Dinner Menu with all the above dishes so that you can keep a tab on the sugar consumption and the all the bad carbohydrates consumption.
If you workout throughout the year and you don't watch what you eat in the Christmas season then all the hard work you did can go to waste. You wouldn't want that!!! If you are a diabetes patient then you can't enjoy all the sweet dishes but if you choose the above Healthy Christmas Dinner then you can enjoy sweets that you might have craved throughout the year.
Use the above Healthy Holiday Cooking Tips to keep your family members healthy. You have to take care of their health by feeding them healthy food. These Christmas Dinner Ideas are unique and even exotic. If you have a little get together at your house these Healthy Holiday Recipes for Christmas can serve as exotic foods and with proper garnishing, these healthy Christmas recipes will surely serve the purpose.
These were some Healthy Christmas dishes I've compiled in this article. Enjoy these recipes and enjoy them with your families
Merry Christmas and a Happy New Year!!!